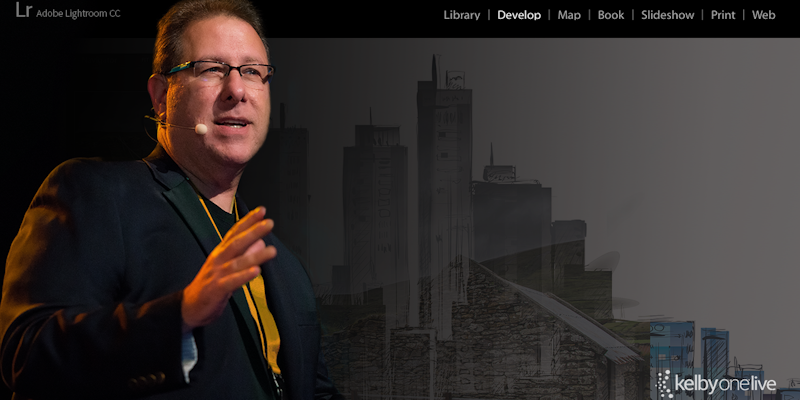 VOD REPLAY AVAILABLE THROUGH 8/14/17

Unleash your Photo's potential with Scott Kelby, The world's #1 best-selling Lightroom author, as he brings his all-new full-day Adobe's Photoshop Lightroom training seminar online by popular demand. If you couldn't make it out to see Scott Kelby's seminar earlier this year at one of our KelbyOne Live events hosted in cities across the US, now is your chance to join him online for a day that will change the way you use Lightroom forever
Spend a day with Scott Kelby, the worlds leading author and training source for Adobe Photoshop Lightroom, and take your Lightroom skills to the next level with a pro you can trust. The entire day is designed to give you the maximum bang for your buck by focusing on the stuff today's photographer's really need to know in Lightroom (and by skipping the fluff you can leave behind). It's a modern workflow, and way of learning, that will unlock a whole new way of working in Lightroom that you are going to absolutely love! 

This webinar is not like your typical online webinar, you're going to get the same full day training and the same perks as if you attended the in person seminar all while watching from the comfort of your own home or office. Attendees get the full color workbook via PDF that outline each step-bystep technique and tutorial taught in the classroom. Plus, attendees will receive a free download of Scott's online course "Create a Photo Book in Lightroom CC". In addition, you'll get access to a private web page with 10 LR presets (and videos on how to use them), gear guide, tour Q&A and other various downloads.
Here's what you'll learn:
10:00 AM - 11:15 AM
Really Getting Your Images Organized in Lightroom
If you're ready to finally get Lightroom set-up the right way—where you can find any image you want, anytime you want, without spending a ton of time entering in keywords—this session is for you! Scott shares his exact step-by-step system to keep everything organized and running at top speed. You'll be amazed at how a solid, simple system can make all the difference. This is a session that will change everything! He covers everything from backing up to Smart Collections. It's not a bunch of jargon and theoretical ideas—you'll learn the exact techniques you'll use daily in a real-world workflow that works!

11:30 AM – 12:45 PM
How to Edit & Tweak Your Images Like a Pro
Scott shares his proven techniques for editing images to get incredible looking results that will take your image to the next level. He takes you step-by-step through the process so you'll know exactly what to do, in what order, and more importantly why. Once you master the techniques taught in this class you'll be one step closer to creating the jaw-dropping images you've always dreamed of.

1:45 PM - 3:00 PM
Photoshop for Lightroom Users (a kick-butt crash course)
Can you learn everything about Photoshop in one hour? Not a chance! But you absolutely can learn just the stuff you need to know in Photoshop that you can't already do in Lightroom. This is a really eye-opening session. If you've ever thought, "Ya know, I really need to start using Photoshop…" this class will blow your mind (mostly, because you'll find out that as powerful as Photoshop is, with the methods you'll pick up, learning it is much, much easier than you'd think).

3:15 PM – 4:00 PM
Lightroom Killer Tips
This is that fast-paced fun session (from the Editor of "LightroomKillerTips.com" himself) where you learn all those insider tips and tricks to help you work faster, more efficiently, and get twice the work done in half the time. It's those little known features and time-saving techniques, shortcuts, work-arounds, and just plain hidden stuff that will change the way you work in Lightroom from this day forward. You will be amazed at what you'll learn in just this one session.

4:15 PM – 5:00 PM
Expanding Lightroom's Power
There is a lot more to Lightroom than just organizing and editing, and in this session Scott's going to uncover the techniques and features that unlock Lightroom's full potential. You'll learn everything from how to make photo books, to how to create pro-looking print layouts. Plus how to do real client web proofing, how to shoot tethered, which 3rd party plugins to use (and why), and you'll wrap up learning Scott's start-to-finish Lightroom workflow. It's an amazing way to wrap up an incredible day of Lightroom learning from the man who literally wrote the book on using Lightroom.
Best of all, you'll have a complete, fully-detailed class workbook emailed to you in a PDF that follows right along with Scott's live training (including a series of videos created just for this tour) so you don't have to spend the day scribbling notes—instead you can relax, focus and take it all in.
But, don't just take our word for it, hear it from a few of our past attendees: 
David Milton

"If you have a chance to sign-up for a KelbyOneLive class, take it. This class is worth $299.00, $479.00 or more. Seriously, take this class before Scott wakes up from his dreamlike state and charges more." 

Kim Eaton 
"Thanks KelbyOne for a great and very informative day. I have never laughed so much while learning! I can't wait for the next one!" 

Jody Peckham 
"Mr. Kelby where have you been all my life? #kelbyonelive #backup #organizingphotos #workflow" via Twitter (@jpcreativephoto)
Your Instructor, 
Scott Kelby
 is the President and CEO of KelbyOne, is also the original "Photoshop Guy", is the Cofounder and CEO of Kelby Media Group, the editor and publisher of Photoshop User Magazine, Conference Technical Chair for the Photoshop World Conference & Expo, Training Director and instructor for KelbyOne Live Seminars, and author of a string of bestselling technology books.